Traditional methods of color-correcting digital images date from when computing was slow, storage expensive and RAM minimal. Only the most important images could justify the cost of processing. The techniques that were valid in those benighted times don't correspond to today's needs.
In his first book in more than six years, Dan Margulis rethinks the process from the ground up. He suggests a radically different workflow for an age in which speed is critical and processing of multiple images is the rule and not the exception. His solutions are often highly automated, and all the automation is made available for free, including a powerful PPW panel that serves as a command central.
Among the revolutionary ideas:
Color and contrast are never mixed; there are separate passes to eliminate color problems, to heighten contrast, and to make the color sing.
Many steps temporarily leave the image looking worse than before they were applied, so as to enable a superior final result.
For very important work, instead of proceeding slowly and carefully, go as quickly as if the job were a throwaway. Then, do additional quick versions from scratch and then blending the best of each variant.
The language is simple but the concepts are deep, cutting-edge, and covered comprehensively. The reader's way of thinking is continually challenged with new ideas, sardonic comments, and the occasional quiz. Modern Photoshop Color Workflow is designed for an expert audience, yet the discussions of what makes for a good-looking image are accessible to all. 
As befits the modern age, the physical book is only the start of the experience. The supplied actions have hundreds of pages of PDF documentation. Readers have access to nearly a dozen hours of supporting videos by the author and his friends, and can test their own skills with the scores of original images that the text shows how to correct.
The commonsense, scrupulously thought-out suggestions of Dan Margulis have shaped the practices of a generation of color experts. Modern Photoshop Color Workflow arranges methods the author has developed in other books in a logical order with new approaches, makes clear the strengths and weaknesses of each, and suggests which can be omitted or accentuated when time is at a premium.
A Workflow and a Philosophy
This book introduces a radical departure from past color processing practice—
a disciplined workflow aimed not just at optimal quality but at the requirements of an age of speed. Among the innovations:
Color and contrast are always treated separately.
Quickly creating multiple versions and then blending them harmoniously,
as opposed to loving one method to death.
The aim is now excessive color, followed by a choice of the most appropriate way of backing off.
Routinely blending channels for extra contrast.
Taking advantage of the strengths of both RGB and LAB.
The workflow is amenable to automatation. Readers can download, for free,
A set of 14 actions and scripts, some extremely complex.
Hundreds of pages of PDF documentation to learn how they work.
A PPW panel that allows one-click access—and adds extensive options.
As usual, Margulis offers new state-of-the-art techniques.
Precision channel operations and use of varying layer modes.
Powerful, controllable highlight and shadow enhancement.
Special treatment of skin and skies.
HDR effects without multiple camera exposures.
Above all, he advocates agreement with human perception rather than with what the camera captured. The methods include:
An action that uses artificial intelligence to create color variation, not just stronger color.
Ways to compensate for sun-and-shade and similar conditions.
Specialized treatments that make near-neutrals appear more natural.
A complex sharpening action that reduces the most obnoxious artifacts.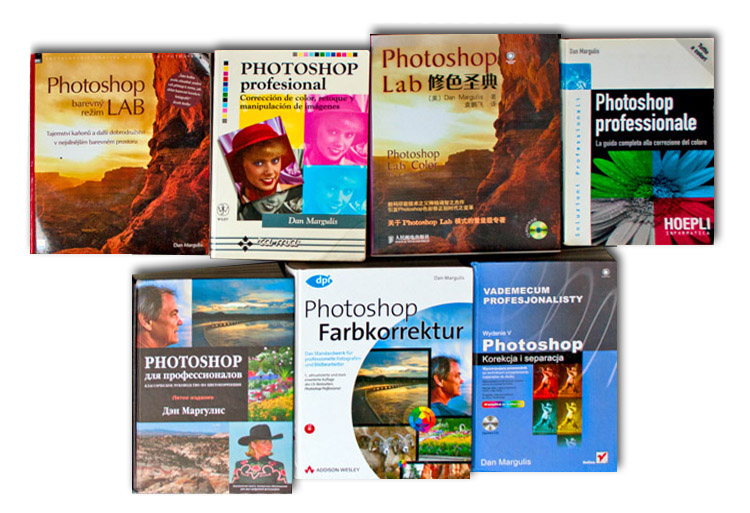 Everywhere in the world of digital color, top professionals look to the works of Dan Margulis. Modern Photoshop Color Workflow continues the tradition. No book of recipes, it is a long conversation with the leading authority on image enhancement. It will engage you, invite repeated reading, and challenge your way of thinking.
Paperback: 480 pages
Publisher: MCW Publishing (March 17, 2013)
Language: English
ISBN-13: 978-0-9882808-0-9
Product Dimensions: 8.5 x 1.0 x 10 inches
Shipping Weight: 2.8 pounds
When the book was published, Dan made a blog post offering advice to those considering purchasing it. Read it here. We've also started a page of comments from others.